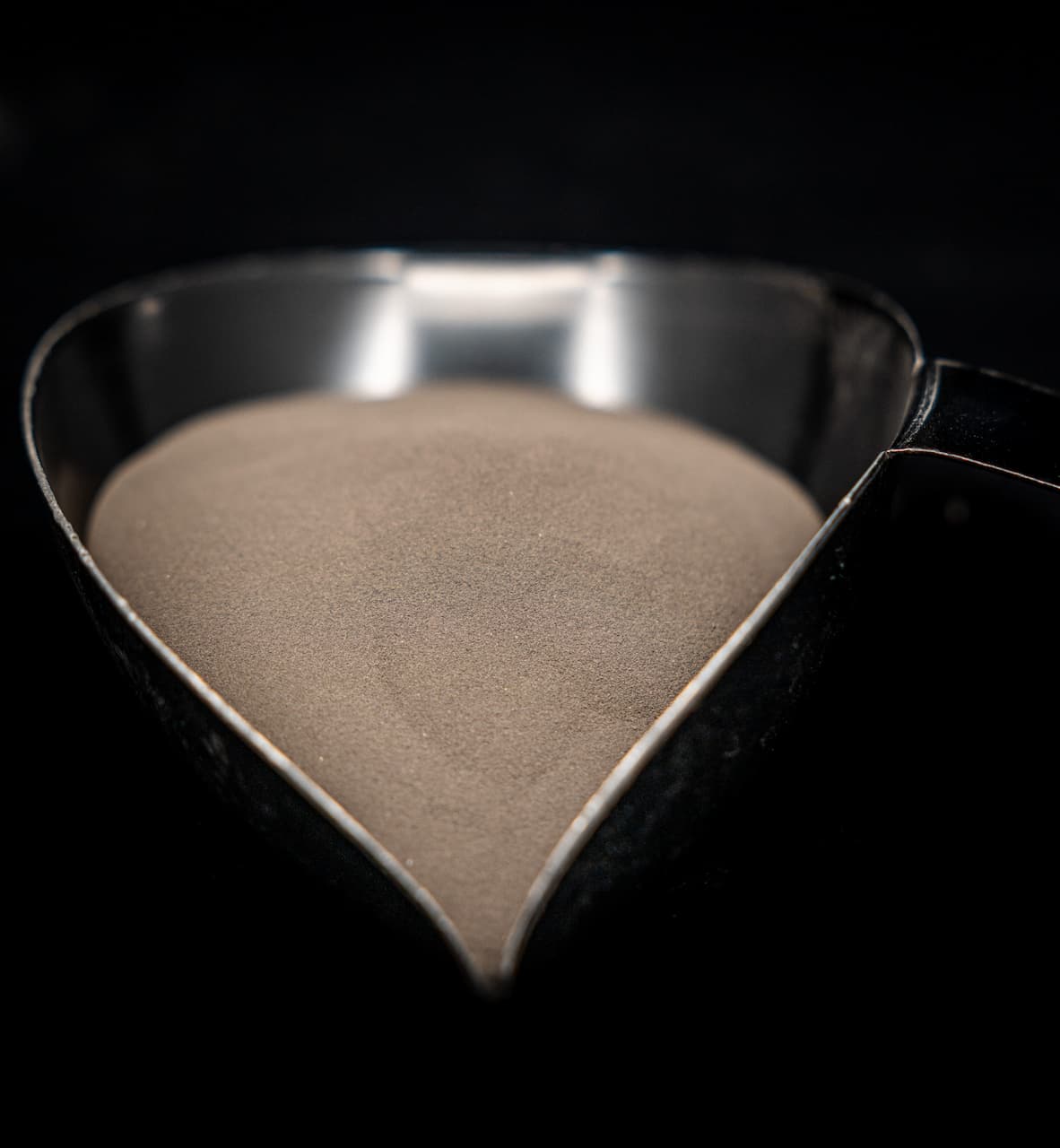 Tungsten Carbide Nickel Powder – 90WC 10Ni – LA-3371-27.2 (-325 +15u) WC-Ni 90/10, sintered and crushed

Appropriate for applications under 1000°F. The Ni matrix provides for a higher corrosion resistance than Co.
Wear resistant thermal spray coatings of tungsten carbide are used for their hardness and wear resistance. When choosing a tungsten carbide powder, the particle size and type of carbide selected are important in determining the correct material to combat various forms of erosion, abrasion and wear. Whereas the amount of metal matrix in the coating (nickel, cobalt, or alloy) will depend on the toughness and abrasion resistance required.
Material Specificaiton
Product Application
Useful Documents
Equivalents
Method
REVIEW
Material Specificaiton for LA-3371-27.2 (-325 +15u) WC-Ni 90/10, sintered and crushed
Chemical Compositon Requirements (By weight percent)
| | | | |
| --- | --- | --- | --- |
| Element | Minimum | Maximum | Target |
| Aluminum | - | - | - |
| Boron | - | - | - |
| Carbon | 3.35% | 3.85% | 3.60% |
| Chromium | - | 1.00% | 0.50% |
| Cobalt | - | 1.00% | 0.50% |
| Free Carbon | - | - | - |
| Iron | - | 1.00% | 0.50% |
| Manganese | - | - | - |
| Molybdenum | - | - | - |
| Nickel | 9.00% | 12.00% | 10.50% |
| Oxygen | - | - | - |
| Silicon | - | - | - |
| Sulfur | - | - | - |
| Tungsten | BAL | - | BAL |
| Vanadium | - | - | - |
| | | | | |
| --- | --- | --- | --- | --- |
| U.S. Mesh Passing Sieve X Retained | - | - | Min. | Max. |
| - | - | 200 Mesh | - | - |
| 200 Mesh | X | 230 Mesh | - | - |
| 230 Mesh | X | 270 Mesh | - | 0.00% |
| 270 Mesh | X | 325 Mesh | - | 0.50% |
| 325 Mesh | X | 400 Mesh | - | - |
| 400 Mesh | X | 635 Mesh | - | - |
| 635 Mesh | X | D | - | 25.00% |
Sub-Sieve Sizing Requirements (Volume Percent Per ASTM B822)
| | | |
| --- | --- | --- |
| Micron Channel | Min | Max |
| -22 μ | - | 25.00% |
| -15 μ | - | 5.00% |
| -11 μ | - | 3.00% |
| -5.5 μ | - | 0.00% |
| - | - | - |
| - | - | - |
| - | - | - |
Physical Properties Requirements
| | | |
| --- | --- | --- |
| Testing Procedure | Minimum | Maximum |
| Hall Flow (per ASTM B213) | - | - |
| Apparent Density (per ASTM B212) | - | - |
| Mean Value (per ASTM B222) | - | - |
| D10 (per ASTM B222) | - | - |
| D50 (per ASTM B222) | - | - |
| D90 (per ASTM B222) | - | - |
These products are ideal for:
Ball Valves
Gate Valves
Various types of Oil and Gas Equipment
Parts used underwater
Equivalents:
1310VM
JK-6189
Amperit 547.074
Woka 3301
Request a Quote
Fill the form below and we'll answer as soon as possible